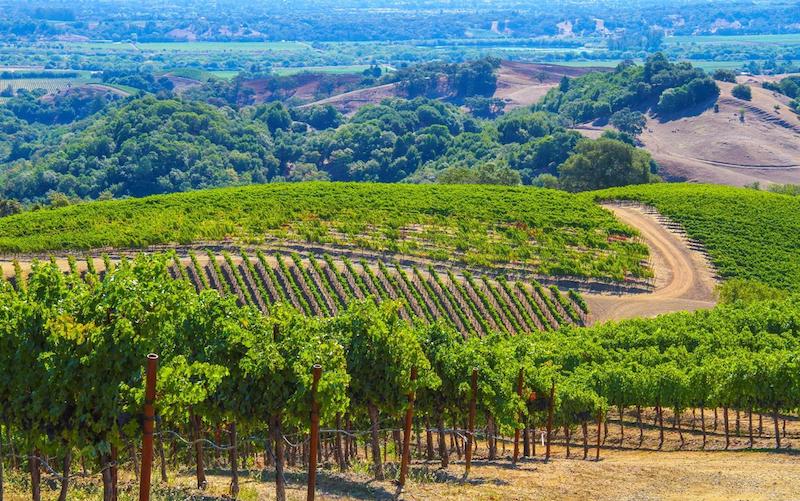 Train with PacWest in Sonoma County – Home to Ironman Santa Rosa and World Class Wineries 
We are excited to announce that our 11th annual late winter training camp will be held in the gorgeous wine country of Sonoma County, California. This special 4-day destination camp will be centered around the beautiful town of Healdsburg.
This one-of-a-kind VIP camp is designed to significantly elevate your training knowledge and overall fitness going into the 2019 race season including those preparing for one or both Santa Rosa Ironmans (140.6 & 70.3) while also adding a luxurious touch with fine food and wine tasting experiences.
BECOME A FASTER AND MORE KNOWLEDGEABLE TRIATHLETE
You will have fun leaning how to train more efficiently and effectively from one of the leading triathlon and endurance coaches in Northern California – Coach Jay Ridgeway. The goal of this specific VIP camp is to make you faster, smarter and more strategic with both your training and racing while surrounding you with the luxurious amenities that the world famous Sonoma wine country has to offer.
Train with us to gain insights into how you can elevate your triathlon performance. For a limited number of athletes, we'll provide 4 days of personalized coaching and customized instruction.
Preview parts of the swim and bike course for both Ironman Santa Rosa 140.6 and 70.3 races.
We will help you improve your fitness, set goals and develop a training plan for the 2019 season. And we'll make sure that you get to taste and sample some of the best wine and food in Sonoma's Dry Creek Valley along the Ironman bike route.
We're also planning to offer other activities for the "Sherpa" in your life (a.k.a. significant other) so plan to bring them along to experience Sonoma and to learn how to plan and support an athlete in an Ironman race.
WHO IS THIS CAMP FOR?
If you're considering a triathlon or Ironman race (especially Santa Rosa 140.6 and 70.3) for 2019, or you just want to learn how to improve your training with fewer hours and have a better life, this is the camp for you. This camp is for motivated triathletes of all abilities and all fitness levels who want to become faster while training more efficiently. Most athletes will improve with less time training using Coach Jay's methods for reducing risk of injury while increasing fitness and gaining speed in the water, on the bike and on the run.
It doesn't matter if you're an enthusiastic novice or a veteran of the Kona Ironman. We will help you develop a training and racing strategy and provide instruction on how to use new techniques and technology to help you maximize your training efforts. Our camp is designed to help you learn by doing.  We'll kick-off each purpose-driven session with a concise explanation of our goals & objectives and teach you the skills that will make you faster, then we'll go out and practice them together.
Unlike other camps, we won't destroy you during these workouts. Instead we'll teach you how to become a smarter, more efficient triathlete. You'll leave camp with a clear and actionable plan for continued improvement.
HOW IS THIS CAMP DIFFERENT FROM ALL OF THE OTHER CAMPS OUT THERE?
First, Coach Jay will be teaching every session, every day, 100% of the time – offering instruction, evaluating your abilities, identifying issues that might be holding you back and diagnosing solutions that will lead to improvement.
Second, this camp is designed with the goal of helping you get faster through more efficient training. Every session has its purpose. Jay's goal is to make you a better triathlete by teaching you intelligent and purposeful training methods, not by simply piling on more training hours. You'll learn that – in many cases – "less is more." Once we dial in your personal training loads, we'll analyze how your nutrition, strength, and biomechanics can be fine-tuned to further improve your performance.
Third, before arriving at camp, we'll conduct a one-on-one phone consultation with you to precisely determine your interests, abilities, strengths and weaknesses. Then, we'll follow-up with you by providing a 90-day strength training prescription and nutritional guidance that will keep you on track long after the camp is over.
Finally, our immersive triathlon training will take place in and around the amazing venue of Healdsburg and the Dry Creek Valley, home to the Santa Rosa Ironman 140.6 and 70.3 races.
HOW MUCH IS IT AND HOW DO I REGISTER?
Training Camp Cost*
$1,000 per athlete – PacWest annual member
$1,250 per athlete – Non-PacWest member
* Lodging is not included
Price includes
Pre-camp consultation with Coach Jay
Welcome reception at Hotel Trio with wine tasting, appetizers, charcuterie and salads
Luxurious estate chef-prepared 4-course dinner with paired wines at Trattore Farms
4 days of swim, bike, run and strength training
One 50-minute professional massage
Instruction on how to develop an annual training plan, evaluating your abilities, identifying issues that might be holding you back and diagnosing solutions that will lead to improvement
Special guest speakers
We'll also focus on how to use some of the new technologies and tools available to improve your training methods and biomechanics
Post-camp follow-up with 12-week strength and fitness plan
Options for individualized training plans for season or race specific training
Cost for Non-Athletes* (Significant Others/Sherpas)
$400 per person
* Lodging is not included
Price includes
Welcome reception at Hotel Trio with wine tasting, appetizers, charcuterie and salads
Luxurious estate chef-prepared 4-course dinner with paired wines at Trattore Farms
Organized day activities in and around Healdsburg
Camp Headquarters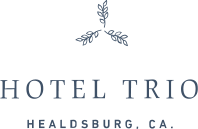 Hotel Trio Healdsburg*
110 Dry Creek Rd, Healdsburg, CA 95448
(707) 433-4000
www.hoteltrio.com
* Hotel Trio Healdsburg is a Marriott Property.
Special VIP Camp Room Rates
$188/night ($179 + $9 destination fee) plus 16% occupancy tax
Check in: Wednesday, March 13
Check out: Sunday, March 17
Reserve Your Room Now – Coming Soon
Room Amenities
Spacious suites (King & Two Queens)
Full kitchen with appliances & serving ware
Full-size refrigerator
Cooktop & microwave
Pots & pans
Silverware, plates & cups
Flat-screen TV with HD programming
Living/sitting area with comfortable sofa
Dining area 
Keurig coffee/tea maker
Hotel Amenities
Complimentary Wi-Fi throughout the hotel
Complimentary Enhanced Buffet Breakfast Daily
Heated Pool & Bocce Court
Fitness Center & Business Station
Beer & Wine Bar
On-property 24-Hour Market
Evening Wine Pouring
Self & Valet Parking
Half bottle of your choice of wine
Hotel Trio Guest Shuttle Service
Secure Meeting Room Space for Camp
Host Winery – Saturday Group VIP Dinner

Our Estate vineyards are picturesquely located on a hilltop on the eastern side of Dry Creek Valley, in northern Sonoma County. With commanding views of Geyser Peak and Mount St. Helena to the east, and the entire Dry Creek Valley to the west, the combination of steep terrain, stone-strewn soils, cool ocean influence and warm summer days provides perfect growing conditions for our vines.
Much like the Côtes du Rhône region of France, these diverse soils produce luscious fruit from grape varieties including Grenache, Syrah, Mourvédre, Viognier, Marsanne, Roussanne and Dry Creek Valley's most popular grape variety, Zinfandel, as well as another favorite, Petite Sirah.
This beautiful 40 acre ranch is sustainably farmed and tended to by hand in 10 distinct blocks based on the specific soil, exposure, slope, vine age and type. Each block is individually managed throughout the growing season to ensure the health of each vine. At harvest, we do something known as micro picks: tasting and then hand picking vine by vine, skipping rows if necessary, in search of the ripest fruit. Ultimately, our goal is to preserve the essence of the fruit that goes into our wines for optimum flavor profiles.
Trattore Farms, Trattore Estate Wines and Dry Creek Olive Company
7878 Dry Creek Road, Geyserville, CA 95441
(707) 431-7200
www.trattorefarms.com

Sample Camp Agenda
Wednesday 3/13 
07:00p-09:00p – Room check-in, catered welcome reception & camp orientation at Hotel Trio
Thursday 3/14
06:30a-07:15a – Complimentary hotel buffet breakfast
07:15a-07:30a – Morning orientation in conference room
07:30a-08:00a – Pack swim and bike gear. Head to swim center
08:00a-09:30a – Team swim workout. Individual video capture – Group 1
09:30a-10:00a – Shower and change into bike gear. Head back to conference room
10:00a-10:30p – INSCYD critical power testing orientation
10:30a-12:00p – KICKR Studio group critical power test
12:00p-12:30p – Post-test brick run
12:30p-03:00p – Personal down time. Catered box lunch
03:00p-08:00p – Individual sessions with coach – Group 1 (review test results & swim videos)
Evening – YOYO dinner, relaxing/sightseeing
Friday 3/15
06:30a-07:15a – Complimentary hotel buffet breakfast
07:15a-07:30a – Morning orientation in conference room
07:30a-08:00a – Pack swim and bike gear. Head to swim center
08:00a-09:30a – Team swim workout. Individual video capture – Group 2
09:30a-10:00a – Shower and change into bike gear
10:00a-01:00p – Ride orientation. Launch long group ride. No brick run
01:00p-04:00p – Personal down time. Catered box lunch
04:00p-04:15p – Regroup in conference room. Group run to high school track
04:30p-06:00p – Group run form clinic flw by speed workout. Run back
07:00p-09:00p – Individual sessions with coach – Group 2 (review test results & swim videos)
Evening – Post-swim review, YOYO dinner, relaxing/sightseeing
Saturday 3/16
07:30a-08:15a – Complimentary hotel buffet breakfast
08:15a-08:30a – Morning orientation. Prepare for ride
08:30a-01:00p – Launch group ride flw by short brick run
01:00p-03:00p – Down time. YOYO lunch
03:00p-04:30p – Guest speaker in conference room
05:00p-05:30p –  Gather in lobby and limo service to Trattore Farms 
05:30p-08:00p – 4-course gourmet dinner with wine pairings
08:00p-08:30p – Head back to hotel
Evening – Post-dinner relaxing/sightseeing
Sunday 3/17
07:30a-08:00a – Complimentary hotel buffet breakfast
08:00a-08:15a – Morning orientation. Gather triathlon gear
08:15a-08:45a – Head to Lake Sonoma
08:45a-09:00a – Get into wetsuits
09:00a-10:00a – Open water swim clinic
10:00a-10:30a – Change into bike gear
10:30a-12:00p – Launch bike time trial flw by short brick run
Afternoon – Hotel checkout, VIP camp concludes